the vision for our wedding weekend in varenna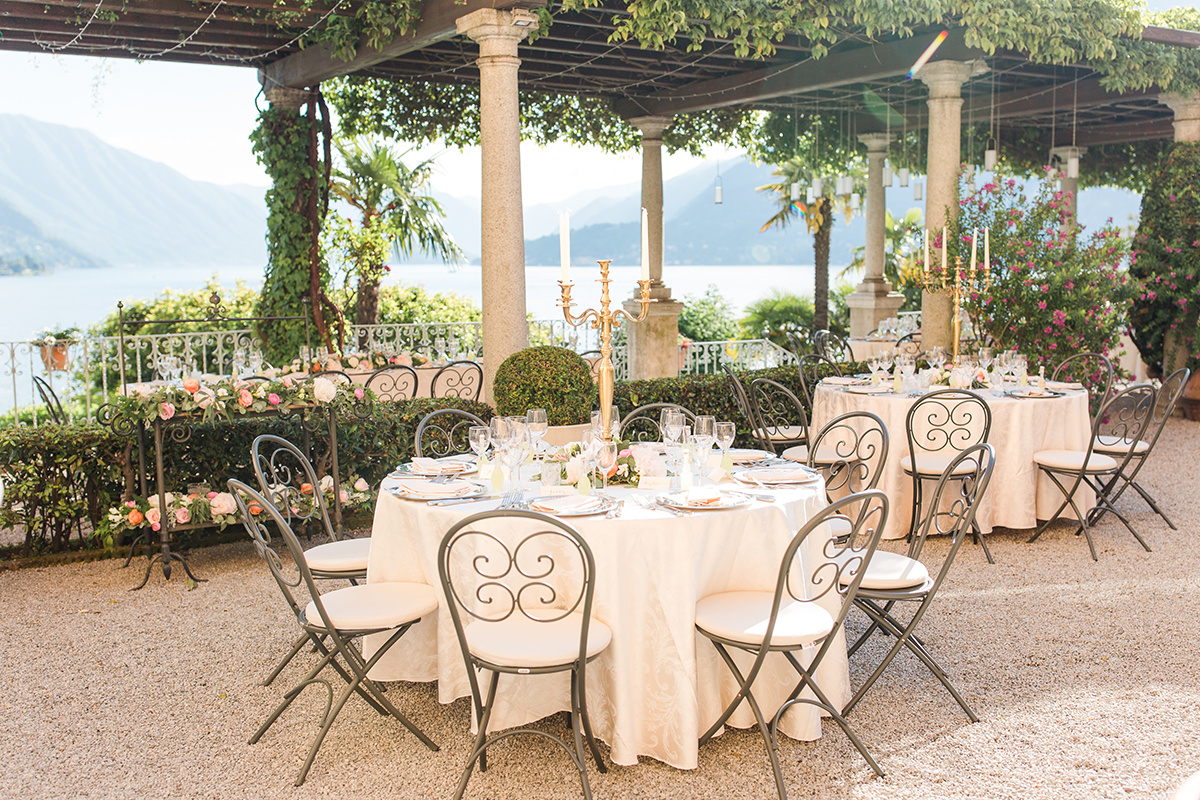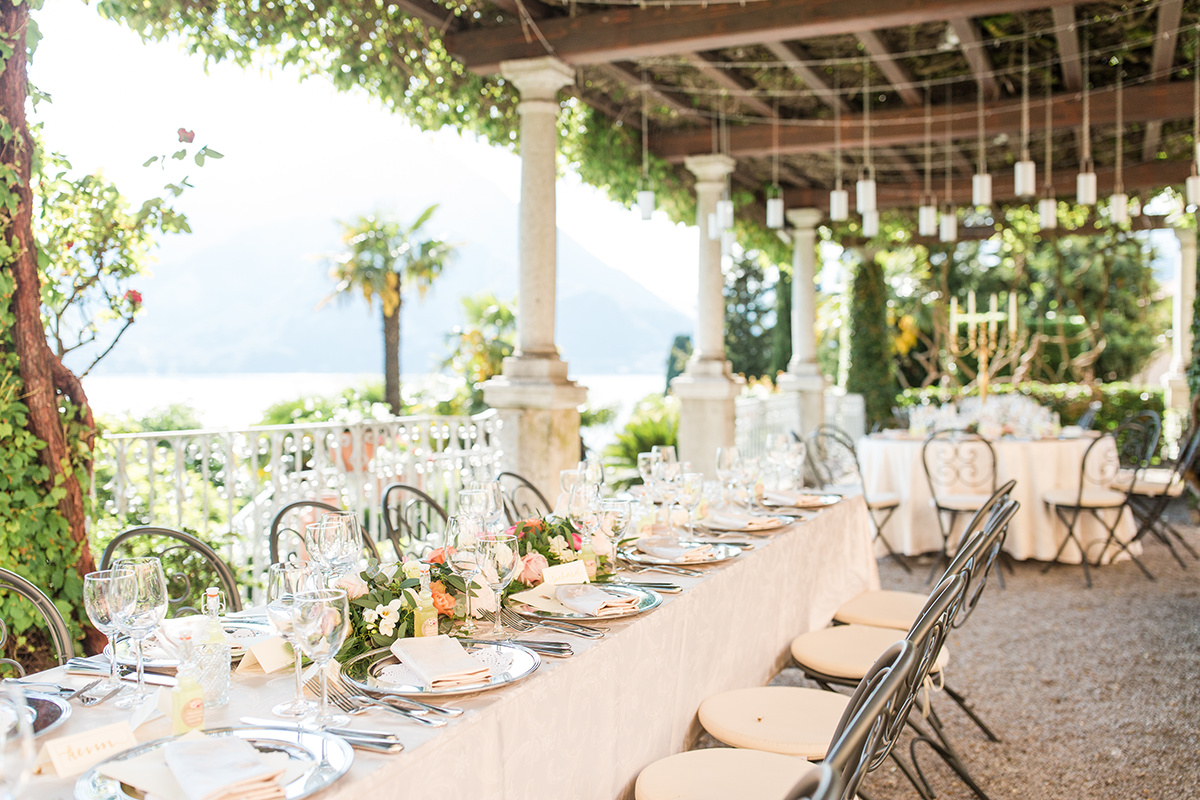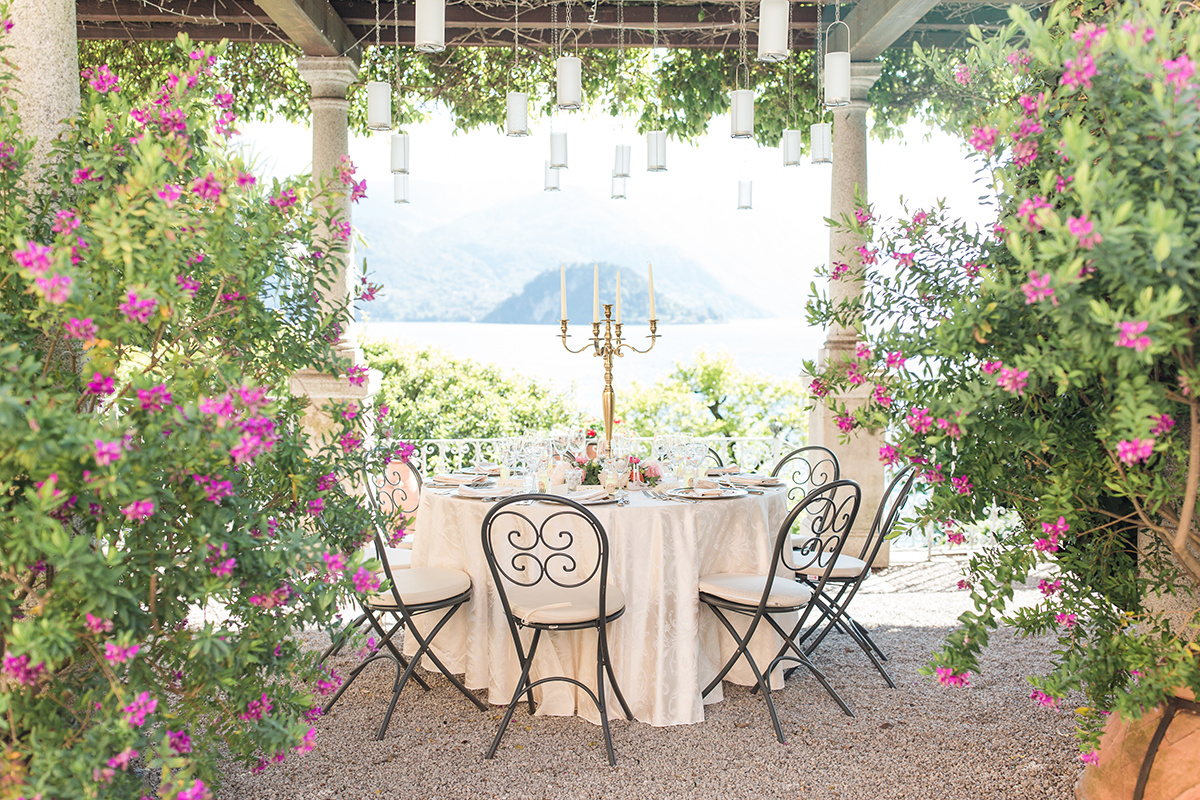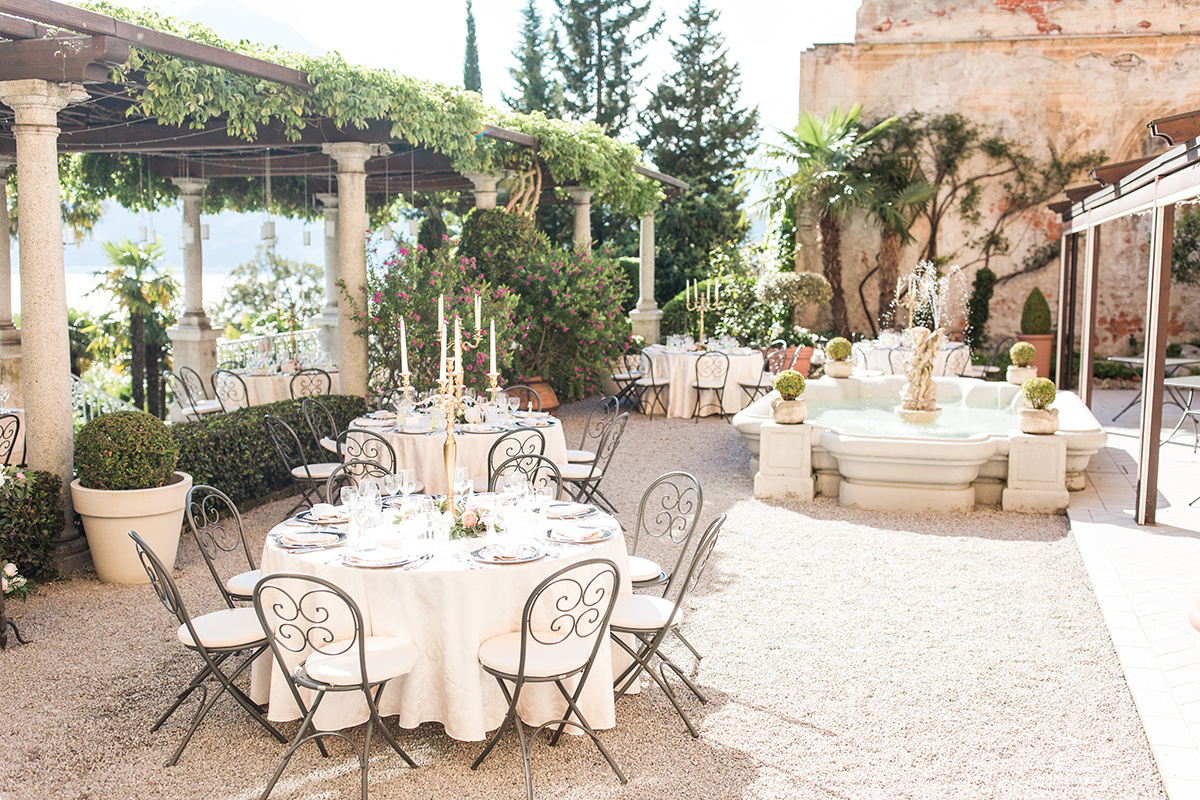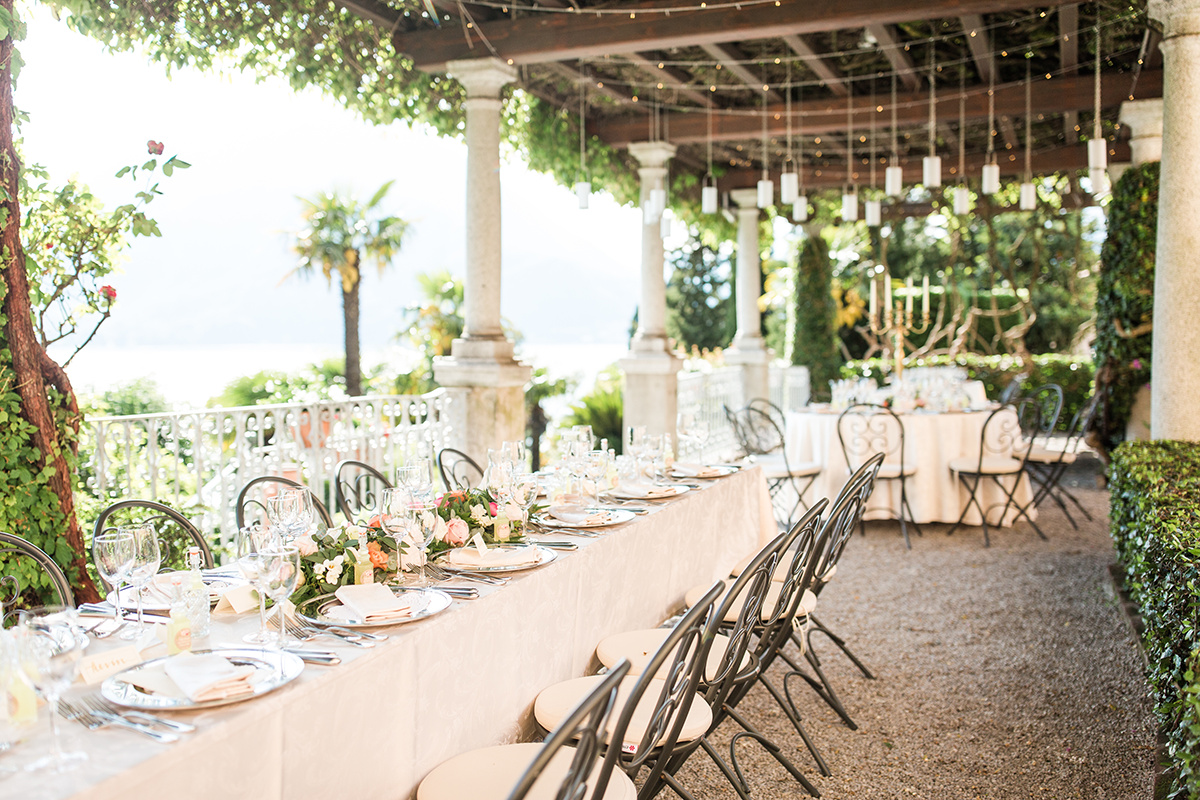 Photo Credit: Katelyn James Photography
overall vision for the wedding
Early on in the planning process, I thought of the theme "Como Away With Us" for our wedding; almost to brand it as more of a whole weekend getaway than just a single event. We wanted people to come to our wedding, but more importantly come away with us and spend time together in this incredible part of the world. So I bought the domain comoawaywith.us, built out a detailed website to help people plan their trips, and then we sent out 'Como Away With Us' luggage tags for the save the dates a year ahead of time. I really wanted people to feel like they had enough time to not just attend our wedding, but to plan a longer European vacation if they wanted to.
For my vision for the weekend, since our guests came from so far away, we wanted to host them both Friday and Saturday, and my biggest goal was for everyone to relax and legitimately feel like they were on vacation. What I love about the Lake Como area is it has the best of everything; the pastel villas, tiny cafes, and rustic cobblestone streets that feel so quintessentially Italian, but paired with the majestic Alpine and lakefront views, something about it feels much more relaxed and inviting than the commotion of the major tourist cities. It feels like a destination within a destination, if that makes sense, so in my mind I wanted it to similarly feel like a relaxing getaway within our guests' broader Euro trips. Once they got there, I wanted every activity to be walkable and logistically simple; we provided lists of things to do and places to eat, we put wine in everyone's hotel rooms so they'd kick back when they arrived, and on Friday we took everyone on a boat tour around the lake so they'd have a way to see the area without feeling like they had to pack a lot of touring into a 2 day period. After the boat tour, we had a feast of caprese salads, pizza, and red wine at a wonderful restaurant called Bar Il Molo on the lakefront. Even though it was a lot of planning, I was so glad we did activities on both days because it allowed me to have more time with everyone; I felt like I got two wedding receptions!
Color scheme
Neutral pinks, greens, whites, and creams with gold and rose gold accents. In an effort to be "flexible," I sent this PDF (right) to our vendors to show a broader realm of acceptable colors to help them stay on theme. I also love blues, teals, corals, etc. so I was happy to have them incorporated, I just didn't want any bold or primary colors.
 
Ceremony décor
The cathedral where we got married was consecrated in 1313, so the medieval frescos, marble, altarpieces, and bell tower created an ambiance where I needed to contribute very little. We had just planned to place candles and loose floral garland along the altar, but then the church asked us if we would 'mind' if they decorated early for a first communion ceremony the next day before our service. Needless to say, I did not mind the sea of fresh white lilies surrounding us at the ceremony! We were so lucky that they offered to do decorate beforehand.

RECEPTION décor
As far as my vision for Saturday, I was very fortunate, because Villa Cipressi is the farthest thing from a blank slate. The views and the gardens at our venue are breathtaking; I wanted our décor to simply complement the existing natural beauty surrounding us. I didn't want distracting centerpieces or bright colors that weren't already found in the landscape, so we stuck with neutral pinks, greens, whites, and creams with gold and rose gold accents. For some reason, the first word that kept coming to mind when describing the aesthetic was 'breezy' [cue the scene from Friends when Monica leaves Richard a voicemail :)]. Not just because of the nautical feel of a lakeside town, but also because I love light, airy decor that doesn't push a particular theme and feels effortlessly in sync with its surroundings. For centerpieces, we chose tall gold candelabras with tapered candles that matched the vintage and romantic feel of the villa (and more importantly, didn't block anyone's view!). Instead of traditional flower arrangements, we opted for unstructured floral garland with garden roses, hydrangeas, anemones, and peonies with lots of greenery laid loosely at the base of each candelabra. The tables were lit with antique etched glass votives and fairy lights from above, and my one 'bold' color in a sea of neutrals were the bright yellow miniature bottles of limoncello at each place setting that read, 'when life gives you lemons, make limoncello.'

PERSONAL TOUCHES
I think the personalization at our wedding was less about putting 'Kate and Greg' on everything and more about making sure the details felt personalized to our guests. We were so grateful for the people that came to celebrate with us, so we wanted to provide a level of personalization that assured people how far they came was not lost on us. We went to a local bodega and filled up over 40 1-liter bottles with local wine on tap (most importantly that's sulfite - and hangover - free!) for the guest rooms, custom made 'ciao' welcome bags (you can purchase here) with snacks, water, pashminas (in case it got chilly at night), and brochures of our favorite things to do in the area, directions to all the events, etc. At the reception, we greeted each guest with a glass of Prosecco that had an engraved swizzle stick with their name and table number, at the tables were hand written place cards with mini limoncello bottles with labels I made that said, 'When life gives you lemons, make limoncello' (words to live by!). Since traditional Italian wedding dinners are long, we asked people to give toasts between courses, and this was by far my favorite part. Since we decided not to have a bridal party, we had a handful of our parents, siblings, and best friends speak over the course of 3 hours, and it added such a joyful, sentimental, and hilarious element to the reception that I'll never forget. Sometimes at weddings I unintentionally disconnect from the sentiment of the occasion because the party is more distracting, so I love when a big focal point is toasting and learning more about the couple.